Terry Ellen Carter, Sewist
Rocky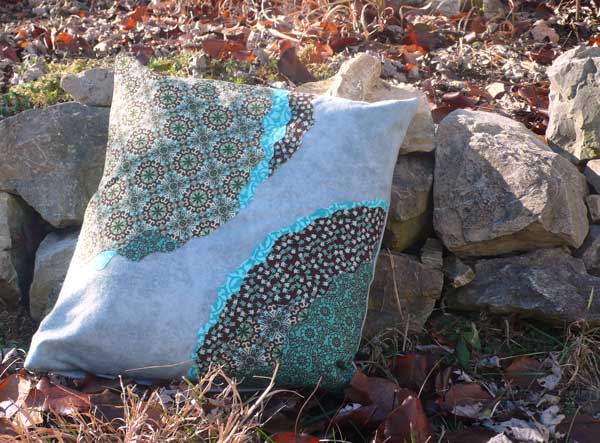 During our hikes we often see wonderful rocks decorated with beautiful patterns of lichen in dozens of shades of green. I admire them each time and think about how to apply the inspiration. This pillow is my first attempt. Do you lichen it?
Time's Up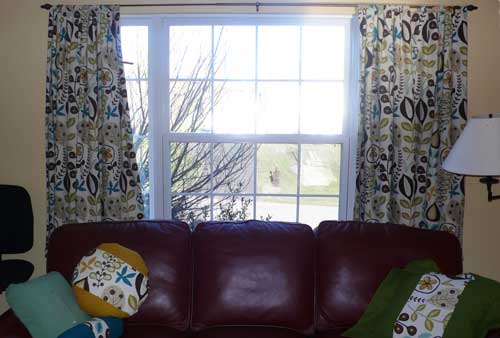 Twelve years with the same curtains was quite enough, thank you. It was time to update the living room. Pardon the backlit shot - closed curtains are boring in a picture, even when they are of marvelous fabric.
 
New pillows too. Had fun with these!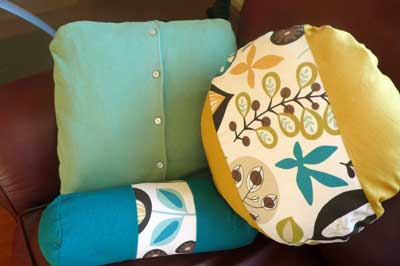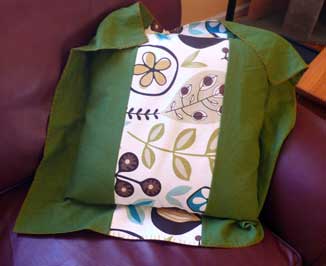 Fall Tomato Crop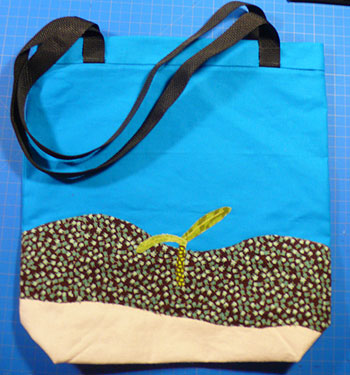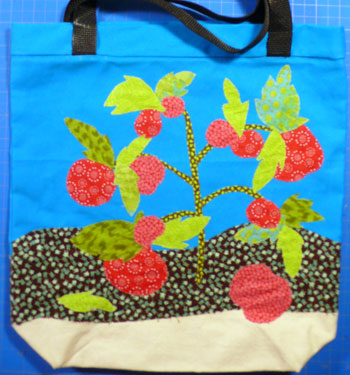 Who says October is too late to grow tomatoes?
Ready For Adventure!
Wishing for a new pair of zip-off-leg pants was getting me nowhere. I didn't want hip huggers, DID want sturdy fabric, didn't want gaposis at the back waist. So I made my own pants, with just the features needed - including a secret secure pocket in one of the front J-pockets. I'll do things differently and better next time. For now, I'm READY!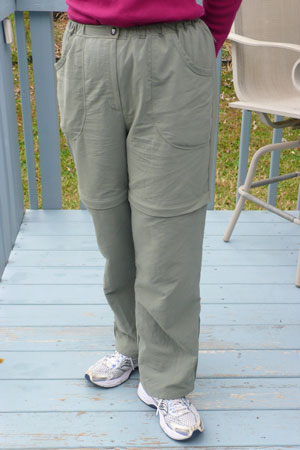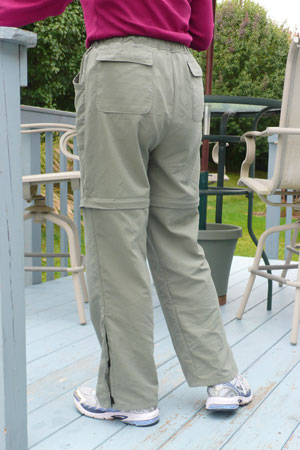 "Can You Please Make Some Dresses?"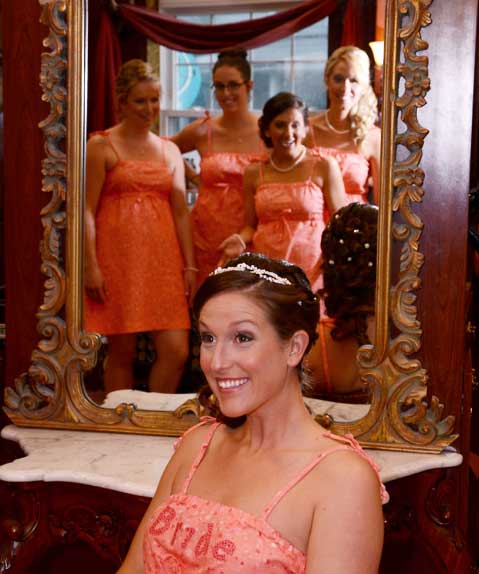 My niece called to ask "Can you please make dresses for me and my bridesmaids?" What else could I say, except "Of course! Let's talk about this..." There were months (MONTHS!) before the wedding - plenty of time.

We'll skip the parts about stores running out of the desired fabric (more than once) and differences between "big box store" notions and "serious wholesale supplier" notions. Six wonderful young women helped their truly amazing sister/friend to create a magical wedding celebration. And they all had matching dresses to wear as they got ready for the big event.

What a delight to be part of this happily ever after!! Photo by Moments Captured Young (New Hampshire).
Eloise Reports for Work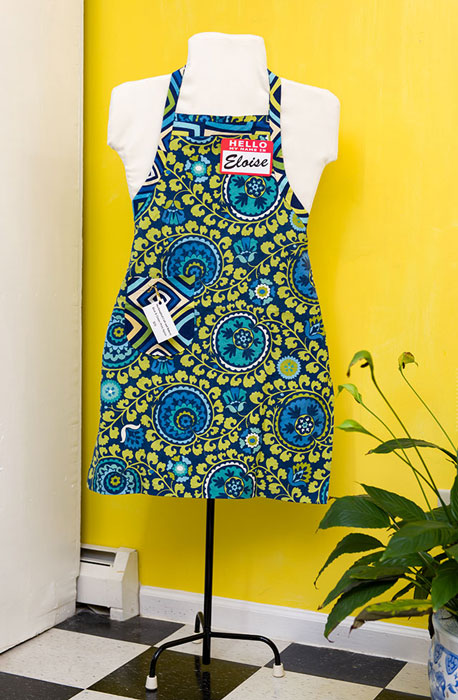 Eloise was created from thick foam core, velvet from the stash, and a weird towel rack from the thrift store. She wears my aprons with panache.
Surprise Totes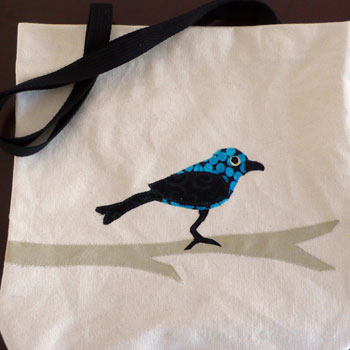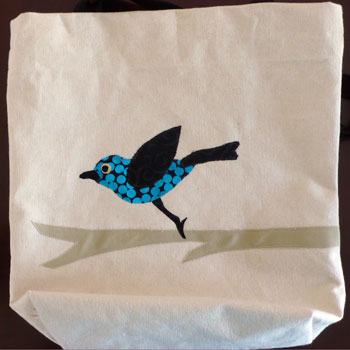 What fun to discover that the bird is Landing and Taking Off on opposite sides of the bag!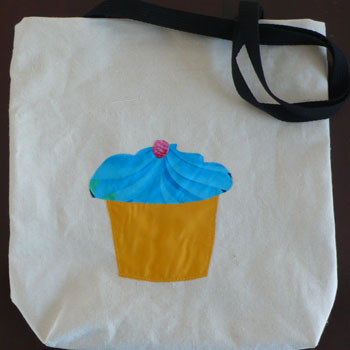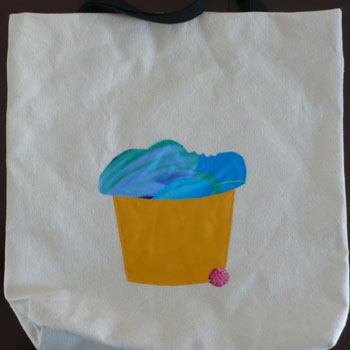 Wait a minute! Who took a bite out of the frosting?
Fun With Colors, Shapes, and Patterns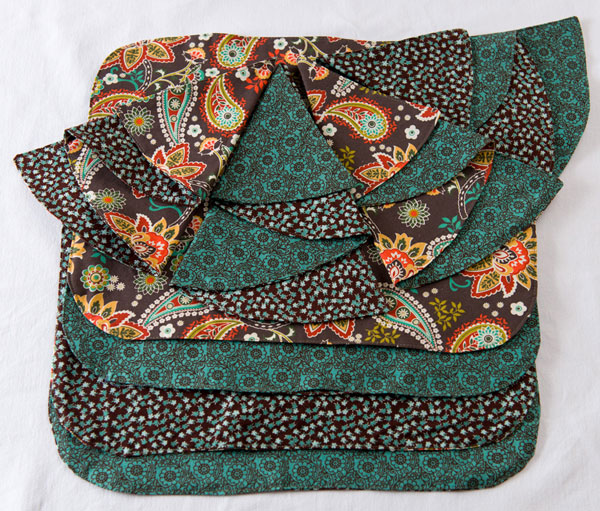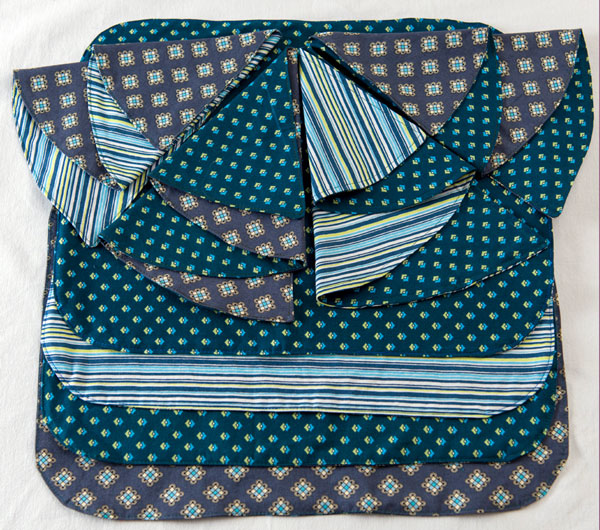 I created many versions of this swirly napkin style during the winter holiday season, and people really liked them. Sew, picking up on every color in the Fiesta Ware pallette, I made these sets for all-the-time use.
My Sleeves Go To Washington!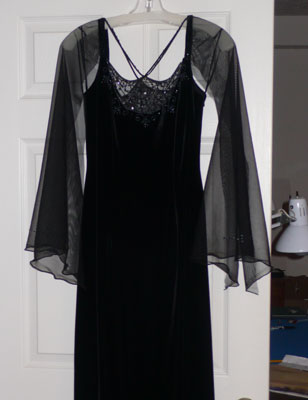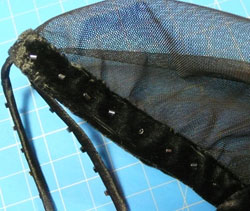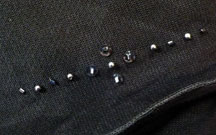 A previously spaghetti-strapped dress needed a makeover for an important event. I removed the old straps and created more substantial beaded straps to support fluttery sleeves, with beading at the wrist. Did I mention the BEADING!?!

By the way - the event was a PRESIDENTIAL INAUGURAL BALL!
"I Need a Starfish Costume"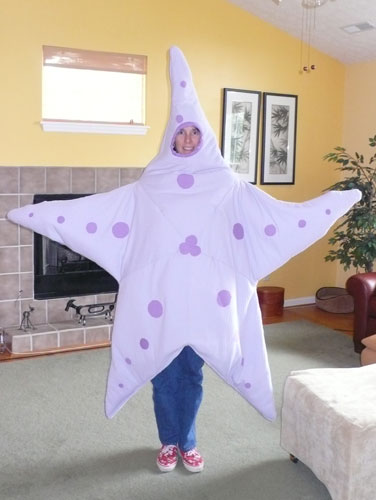 My sister called and said, "I need a starfish costume."
"Sure," I replied. "How big is the child? I'll make a little hat so their head won't be covered."
"No - for an adult! A FULL-BODY starfish! You can do that, right?"
"Sure," I replied.
"We Need a Big Banner"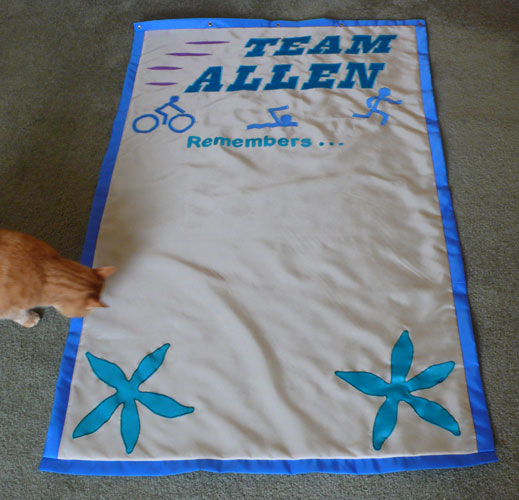 My family, once again, provided the impetus for a really great project. They participated in the "Team in Training" triathlon to raise money for the Leukemia & Lymphoma Society. One fund-raising activity was having people sign the banner in honor of the loved ones they remembered, and collecting donations for each signature. The banner was full of love and signatures, and Team Allen succeeded!

The flag was five feet high, nylon, with appliqued lettering and starfish.
Am I Really Going to Enter This Pageant?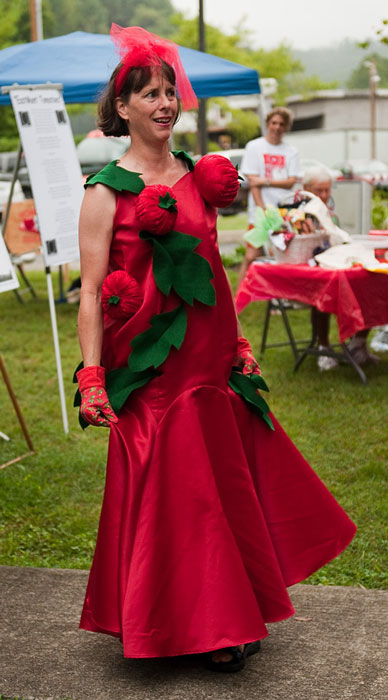 Starting with a gown from Goodwill, I created this MAH-VELOUS ensemble for the EastMont Tomato Festival Pageant. Turns out, I won the coveted "Heirloom Tomato Queen" crown - for contestants of a certain age.
Umbrella Holder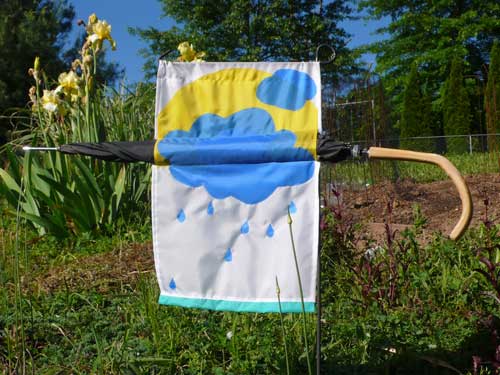 What else do you do with an umbrella found on "big trash day"?