Workshops and Classes
INSIDE CLOTHING CONSTRUCTION - January 23, 2014 at 6:00 pm
Christiansburg Library, 125 Sheltman Street, Christiansburg, VA
Have you ever held a "bought" garment and thought "They don't make 'em like they used to"? Learn what made that happen – with garments to examine - and what might happen to clothing manufacturing in the future.
SEWING: TOOLS, TERMINOLOGY & TEXTILES - February 6, 2014 at 6:00 pm
Christiansburg Library, 125 Sheltman Street, Christiansburg, VA
What you need to know to be successful in sewing, and to shop more effectively. A variety of items will be shown and explained.
OPEN SEWING STUDIO - Date in early March TBA
Christiansburg Library, 125 Sheltman Street, Christiansburg, VA
Bring a UFO (unfinished object), a new project, or stuff you have in the stash. We'll share inspiration and ideas and make some great items.
About Terry Ellen Carter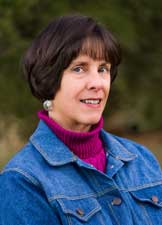 Photo credit: Kirk Carter
Sewing is the continuous thread running through my life. I wore home sewn clothes as a young girl, made my own clothes as I developed my skill set, and sewed for others when I learned there was a demand.
"Functional and Fun" describes what I create with fabric and notions. By combining prints and colors and shapes, I create useful items for the home, or to make your space feel like home. My work makes people smile.
Fabrics, trims and notions are my media. I combine colors and prints to create expressive versions of common household products.
Highlights include:
Designing and creating custom half-time costumes for the Orlando Magic mascot Stuff during the team's first 2 years of play.

Planning and sewing a variety of puppets and puppet outfits for a regional television show.

Wearing my own knock-off uniform skirt during an Admiral's inspection. (US Navy, 1981-1985)

Providing a pick-me-up to friends and family with holiday-themed decorative pennants.

Dressing my own home with fabric that makes me happy.

Teaching others this fabulous skill.